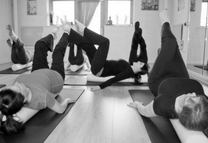 Pilates Matwork:
Pilates Matwork is a mat based course incorporating small pieces of equipment such as: The Ring, Flexibands & Stability Balls. Matwork classes will be divided into different levels starting from Beginners to Intermediate and then Advanced.
No previous experience is required for Beginners & as technique & movements improve then levels will be adjusted accordingly. These classes are open to men & women of any level of fitness who wish to benefit from Pilates method.


Total Barre™:

Sculpt lean & toned muscles with this energizing & dynamic group class designed to Challenge & Change your body - no dance experience or tutus required! Total Barre efficiently blends Pilates with dance, cardio & strength-training specifically challenging Arms, Legs & Core to strengthen & lengthen the body.
Powered by energizing, heart-pumping music that makes you need to move, this class uses choreographed movement patterns with the support of a ballet barre to take you through a flow of high-powered sequences that will keep you energized & motivated!
**Teen Barre as above but catering for Teens 12-15yrs

Personal Training:
Personal Training Sessions are for those who wish to do 1-2-1 training. These types of sessions are best suited to those who may need a more personalised Pilates or Exercise program or perhaps would like extra sessions as well as the classes. A full postural analysis will be completed for Pilates Personal Training clients, often Physiotherapists recommend Pilates & programs can be designed to work with them. 2 - 1 sessions or larger groups of Friends & Family may also be organised upon request.

Complete Core:
Complete Core is a mat based class incorporating Pilates Principles and some movements into the exercise workout. The class has many of the benefits of Pilates such as strengthened and toned abdominal's and stronger lengthened back muscles etc.
The class is slow and uses controlled breathing to maximise effort on the abdominal's.
Equipment such as Stability Balls, Toning Balls and Rings and all new BENDER BALLS will be used for added intensity. The class is open to men and women and no previous Pilates experience is required.
It will last for 1hr and will finish with some relaxation and breathing.

Core Duo:
Core Duo is a Complete Core class but for those who want to bring their sons/ daughters/ niece/ nephew..
Great for spending some quality time together but also keeping strong & flexible at the same time!
PAYG class €16 - that includes yourself & your plus1!
Open to Men & Women & your plus one (8 - 15yrs old)

Complete Circuit:
Complete Circuit is a 1 hour class starting with a group warm up followed by a circuit format class. The class will be using equipment such as Treadmills, Bikes, Rower etc. Short periods of time on each station also using smaller pieces of equipment such as kettlebells, hand weights & bands for a full body workout!

Resolute Heart Programme:
Resolute Heart Programme is a Phase IV Cardiac Rehabilitation Exercise Course.
The course is open to Heart patients by direct referral from their GP or Hospital.
The Exercise class will be set up in a circuit style using a combination of stationary equipment like a treadmill & smaller equipment like hand held weights, catering for 8 clients to 1 fully qualifed BACPR Exercise Instructor.
* Before class begins clients will arrive an have their blood pressure taken to make sure all is in order.
* A gentle 15min warm up & stretch to get the body ready for exercise.
* 45min circuit class where clients will perform exercises for a specific amount of time constantly monitored by the instructor in charge.
* Class will finish with a gentle cooldown & stretch.
* Classes will last for 1hr followed by a tea/ coffee/ chat with all participants!

---