Resolute Heart Phase IV Cardiac Rehabilitation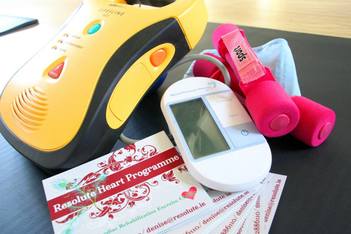 The benefit of Phase IV classes is that patients are referred by GPs or Hospitals to Qualified Instructors in Phase IV who have the specialist training to deal with people with Coronary Heart Disease. This means the instructor has the training & expertise to organise a group or personalised training session using information from the referral sheet with each patients medication, heart rates & other medical details.

Patients who have been referred will then have to be risk stratified, this means that all their medical information will be looked at to make sure it is safe for the patient to begin exercising. It may be recommended to the patient that they need to wait a little longer to recover or for example to wait until all test results have been received before starting.

Patients who are referred to Phase IV will have a 1-2-1 talk before taking part in the classes so both instructor & client can introduce themselves & talk about the clients fears/goals & if they have any questions they may want to ask.

Once Phase III is completed often patients will either go back to their lifestyle pre-rehabilitation or continue their new healthy lifestyle & join a gym or other exercise courses.
Resolute Heart Programme:
The course is open to Heart patients by direct referral from their GP or Hospital.
The Exercise class will be set up in a circuit style with cardio equipment like treadmill/ bike & small weights, catering for 8 clients to 1 fully qualified BACPR Exercise Instructor.
* Before class begins clients will arrive an have their blood pressure taken to make sure all is in order.
* A gentle 15min warm up & stretch to get the body ready for exercise.
* 45min circuit class where clients will perform exercises for a specific amount of time constantly monitored by the instructor in charge.
* Class will finish with a gentle cool down & stretch.
* Classes will last for 1hr followed by a tea/ coffee/ chat with all participants!
---